Link to HauntedHouse.com
RSS Feed:
HauntedHouse.com has an RSS feed for our blog. The feed updates everytime we update and best of all its free! If you have an RSS reader on your website, mobile device, mail client, yahoo page, or whatever you can get your Haunted House News anytime you want! Click here to view the feed!
Banner Links:
Place these banners on your website and link to Hauntedhouse.com or just copy and paste the code below each one and place it in the HTML of your website.
HauntedHouse.com Banners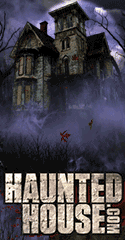 HauntedHouseCanada.com Banners